Celebrating Christmas around the world
This article looks at how Christmas is celebrated in many ways around the world.
Christmas is celebrated in many ways around the world. Each country treats the festival differently as customs and traditions differ from one country to another. From the United Kingdom to Japan, longstanding traditions are what makes this time of year so magical, and you can read all about the some of the most interesting below.
1. United Kingdom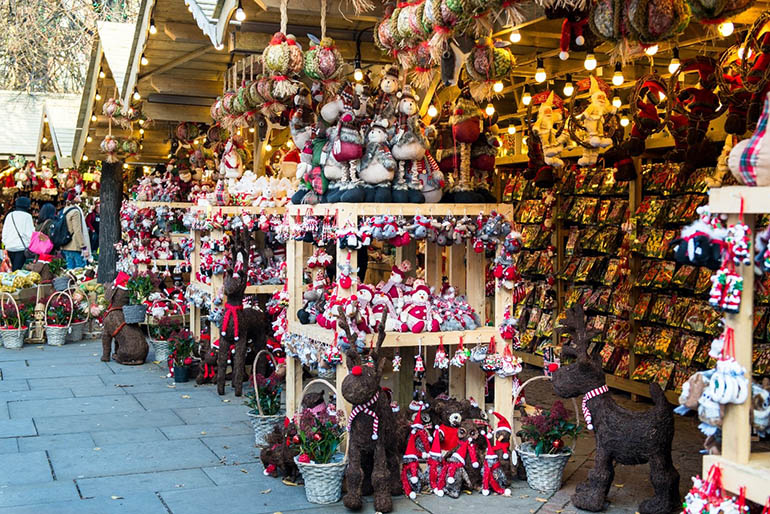 Tis the season to be jolly when Christmas comes around in the UK. In the run-up to 25 December, people will have put up their Christmas decorations at home, decorated their trees and started their Christmas shopping. Friends and families often visit one of the many Christmas markets, usually held in major cities like London and Manchester, where you can find a variety of stalls that sell food and drink, gifts and provide outdoor entertainment. At the table, you are likely to find traditional delicacies (pigs in blankets, stuffing, and mince pies) and a classic turkey dinner. Once the eating has finished, the nation tunes in to watch the annual speech from the Head of the Royal Family.
Not only this, but it's common for a family to visit the theatre for a pantomime, which is a performance of a traditional play, in a comical exaggerated fashion.
It is also common practice for families to gather for a carol service, and sing traditional carol songs together, or a midnight mass on Christmas Eve.
2. Japan
Although it isn't recognised as an official holiday in Japan, Christmas is still considered a special time of the year for friends, families and particularly couples. The Japanese believe that Christmas Eve is the perfect time to shower your partner with affection or confess your love to someone, making it the most romantic day of the year. Throughout the month of December, the streets are lined with Christmas markets and illuminated by spectacular light displays. Typical Christmas food consists of 'Kurisumasu Keki' aka Japanese Christmas Cake and KFC is sold to millions at this time of year with millions pre-ordering share buckets. Christmas decorations have to come down by the end of 25 December to make way for New Year decorations, which is celebrated grandly in Japan.
3. United Arab Emirates (UAE)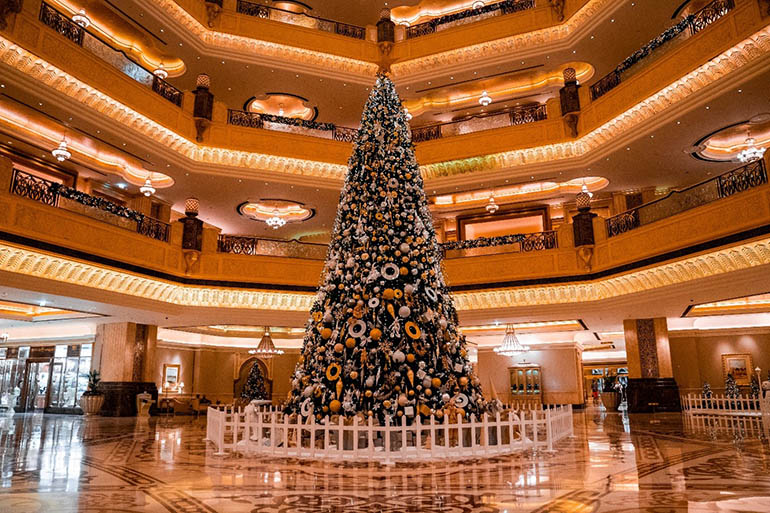 Despite being a predominantly Muslim region, the UAE embraces other religious festivals including Christmas. Emirates with high expat populations such as Dubai and Abu Dhabi, tend to go all out with the Christmas decorations at churches, hotels and shopping malls. The Emirates Palace Hotel in Abu Dhabi is home to the world's most expensive Christmas tree, which is decorated with diamonds, pearls, emeralds and other precious stones, and valued at more than 11 million US dollars. Although December is the coolest month of the year, you're unlikely to find snow in this part of the world unless you visit Madinat Jumeirah's Winter Wonderland or the Winter Expo City. Camping in the desert is becoming an increasingly popular Christmas activity in the UAE, where you can sit under fairy lights and have a visit from Santa.
4. Spain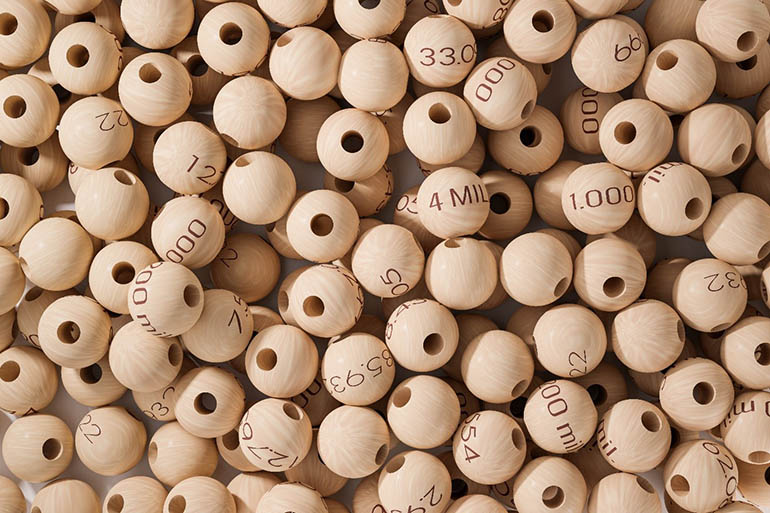 For most Spanish speaking countries, Christmas is never a one-day affair. In Spain, the celebrations start on 24 December (Nochebuena) and go on until 6 January (El Día de los Reyes Magos). On Nochebuena, families will gather for a Christmas feast that consists of sweet and savoury dishes, varying from country to country, and in some cases will attend midnight mass. 'EL Gordo' is the Christmas lottery, which is the biggest draw of the year in Spain on the 22 December and the winning numbers are sung by children. The money is divided into several prizes so there are multiple winners. Not only this, but presents are usually exchanged on 6 January (Day of the Three Kings).
5. Australia
In Australia, Christmas comes towards the start of the summer holidays and is the hottest month of the year. Because of this, Christmas looks a little different to what you might expect in colder countries. Christmas Trees are instead Christmas Bushes, a native Australian tree with small green leaves and cream coloured flowers. In the summer, the flowers turn a deep shiny red over a period of weeks (generally by the week of Christmas in Sydney). Poinsettia plants are also popular plants used as decorations. Because it is summer, it is not uncommon for families to camp or go on their summer holidays over Christmas, where they can enjoy the hot weather by a pool. The most popular event of the Christmas season is called Carols by Candle light, on this occasion, people come together at night to light candles and sing Christmas carols outside. One of the most popular activities carried out on Christmas Day in Australia is playing cricket. Everyone makes their way to the beach for a boxing day BBQ where seafood is the standard, gorging on prawns.
6. France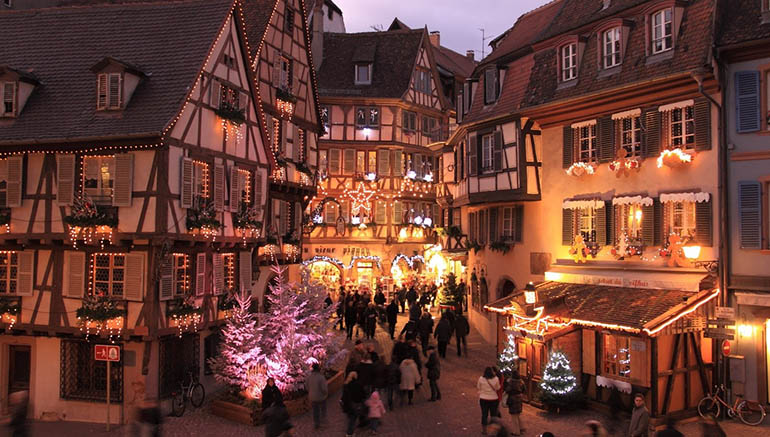 Many people in France put up a Christmas tree, visit a special church service, eat an elaborate meal and open Christmas presents. Christmas really is the most wonderful time of year in France, from the gift-giving Père Noël to the magnificent Réveillon and the Fête des Rois traditions. Christmas Markets are one of the very best parts of a French Christmas, they are found all over the country from Paris to Nice and Provence to Normandy. The country passed a law in 1962 that said children who wrote a letter to Père Noël must receive a postcard back. The postal services have kept this up for four decades, replying to thousands of children on behalf of Father Christmas. The trees are traditionally decorated with ribbons, apples and paper flowers, fairy lights, glittering baubles and a star on top.
7. Phillippines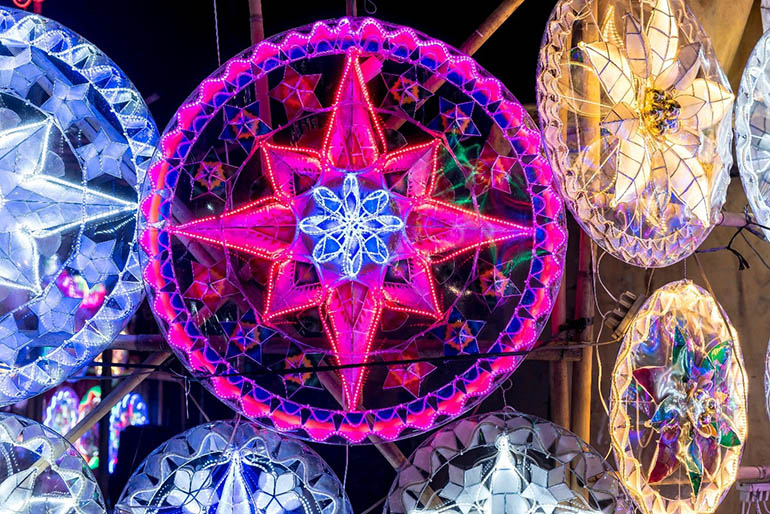 While formal celebrations start on 16 December, many households play yuletide songs and decorate the tree as early as September through to January, which is the longest and most lavish Christmas season in the world. Christmas in the Phillippines is a big family affair, where families attend Catholic mass services for nine days. Each year on the Saturday before Christmas Eve, the city of San Fernando in the Philippines holds the Ligligan Parul Sampernandu, the Giant Lantern Festival. Several villages compete to build beautiful and elaborate paper lanterns. These Christmas lanterns are called 'parols' and are made of bamboo or paper. Initially, the lanterns were simple creations around half a meter in diameter, made from Japanese origami paper and lit by candle. However, today, the lanterns are made from a variety of materials and have grown to around six meters (20 feet) in size. These lanterns are supposed to symbolize the star of Bethlehem. They are arranged in intricate patterns with vivid colors and illuminated by thousands of spinning lights that sparkle and illuminate the night sky. The festival has made San Fernando the "Christmas Capital of the Philippines."
Share this article: